Unicode version 9.0 is scheduled for release in June 2016. The final repertoire is not yet fixed, but currently 7,227 characters are scheduled for addition to Unicode 9.0, which will bring the total number of graphic and format characters in the Unicode Standard to 127,899 characters (in case you are concerned that Unicode is running out of space, that still leaves room for another 846,566 characters to be encoded). In summary, Unicode 9.0 will include at least 9 new blocks (named ranges of characters) and cover at least 4 new scripts (Osage, Bhaiksuki, Marchen and Tangut), making a total of 268 blocks and 133 scripts. I will update this post with new figures when the final repertoire for Unicode 9.0 is fixed.
Emoji
No new emoji or emoticons have yet been accepted for inclusion in Unicode 9.0. However, 74 Emoji characters have been accepted for encoding, and are candidates for inclusion in Unicode 9.0.
Provisional
Code Point
Sample Colour
Emoji Image
Provisional Character Name
Source
U+1F57A
MAN DANCING
Encoded to match U+1F483 💃 DANCER (typically implemented as a female dancer)
L2/15-054
U+1F5A4
BLACK HEART
unequivocally represented as black in all variants
Encoded because there is a need for a black-coloured heart emoji, and U+2764 ❤ HEAVY BLACK HEART is typically implemented as a red heart
L2/15-054
U+1F6D1
OCTAGONAL SIGN
stop sign
L2/15-054
U+1F6D2
SHOPPING TROLLEY
shopping cart
L2/15-195
U+1F6F4
SCOOTER
L2/15-054
U+1F6F5
MOTOR SCOOTER
L2/15-054
U+1F6F6
CANOE
L2/15-196
U+1F919
CALL ME HAND
L2/15-054
U+1F91A
RAISED BACK OF HAND
L2/15-054
U+1F91B
LEFT-FACING FIST
L2/15-054
U+1F91C
RIGHT-FACING FIST
L2/15-054
U+1F91D
HANDSHAKE
L2/15-054
U+1F91E
HAND WITH INDEX AND MIDDLE FINGERS CROSSED
L2/15-054
U+1F920
FACE WITH COWBOY HAT
L2/15-054
U+1F921
CLOWN FACE
L2/15-054
U+1F922
NAUSEATED FACE
L2/15-054
U+1F923
ROLLING ON THE FLOOR LAUGHING
L2/15-054
U+1F924
DROOLING FACE
L2/15-054
U+1F925
LYING FACE
L2/15-054
U+1F926
FACE PALM
L2/15-054
U+1F927
SNEEZING FACE
gesundheit
L2/15-195
U+1F930
PREGNANT WOMAN
L2/15-054
U+1F933
SELFIE
typically used with face or human figure
L2/15-054
U+1F934
PRINCE
Encoded to match U+1F478 👸 PRINCESS
L2/15-054
U+1F935
MAN IN TUXEDO
groom
Encoded to match U+1F470 👰 BRIDE WITH VEIL
L2/15-054
U+1F936
MOTHER CHRISTMAS
Mrs. Claus
Encoded to match U+1F385 🎅 FATHER CHRISTMAS
L2/15-054
U+1F937
SHRUG
L2/15-054
U+1F938
PERSON DOING CARTWHEEL
gymnastics
L2/15-196
U+1F939
JUGGLING
L2/15-195
U+1F93A
FENCER
fencing
L2/15-196
U+1F93B
MODERN PENTATHLON
L2/15-196
U+1F93C
WRESTLERS
wrestling
L2/15-196
U+1F93D
WATER POLO
L2/15-196
U+1F93E
HANDBALL
L2/15-196
U+1F940
WILTED FLOWER
wiltered rose
L2/15-054
U+1F941
DRUM WITH DRUMSTICKS
L2/15-195
U+1F942
CLINKING GLASSES
L2/15-054
U+1F943
TUMBLER GLASS
typically shown with iced drink
whisky
L2/15-195
U+1F944
SPOON
L2/15-195
U+1F945
GOAL NET
L2/15-196
U+1F946
RIFLE
marksmanship, shooting (Olympic sport)
hunting
L2/15-196
U+1F947
FIRST PLACE MEDAL
gold medal
L2/15-196
U+1F948
SECOND PLACE MEDAL
silver medal
L2/15-196
U+1F949
THIRD PLACE MEDAL
bronze medal
L2/15-196
U+1F94A
BOXING GLOVE
boxing
L2/15-196
U+1F94B
MARTIAL ARTS UNIFORM
judo and other martial arts
L2/15-196
U+1F950
CROISSANT
L2/15-054
U+1F951
AVOCADO
L2/15-054
U+1F952
CUCUMBER
L2/15-054
U+1F953
BACON
L2/15-054
U+1F954
POTATO
L2/15-054
U+1F955
CARROT
L2/15-054
U+1F956
BAGUETTE BREAD
french bread
L2/15-195
U+1F957
GREEN SALAD
L2/15-195
U+1F958
SHALLOW PAN OF FOOD
paella, casserole
L2/15-195
U+1F959
STUFFED FLATBREAD
döner kebab, falafel, gyro, shawarma
L2/15-195
U+1F95A
EGG
L2/15-267
U+1F95B
GLASS OF MILK
L2/15-267
U+1F95C
PEANUTS
L2/15-267
U+1F95D
KIWIFRUIT
L2/15-267
U+1F95E
PANCAKES
L2/15-267
U+1F985
EAGLE
L2/15-054
U+1F986
DUCK
L2/15-054
U+1F987
BAT
L2/15-054
U+1F988
SHARK
L2/15-054
U+1F989
OWL
L2/15-054
U+1F98A
FOX FACE
L2/15-054
U+1F98B
BUTTERFLY
L2/15-195
U+1F98C
DEER
L2/15-195
U+1F98D
GORILLA
L2/14-092
L2/15-195
U+1F98E
LIZARD
L2/15-195
U+1F98F
RHINOCEROS
L2/15-195
U+1F990
SHRIMP
L2/15-267
U+1F991
SQUID
L2/15-267
NB The above code points and character names are subject to change, and should not be relied on at this point in time.
Sources
These characters are currently under ISO ballot for inclusion in ISO/IEC 10646:2016 (5th ed.) (see WG2 N4705 pages 130, 131, 135, and 137–138). Most of the 8,514 characters in this document will feed into Unicode version 10.0 in June 2017, but if national bodies have no objection to the emoji characters in the current CD ballot which closes 29 February 2016, then it is very likely that the Unicode Techinal Committee (UTC) will fast-track most or all of these 74 emoji into Unicode 9.0. None of these characters are particularly contentious or controversial, and I do not see any reason why they should not all be included in Unicode 9.0, but the final decision will not be made until the UTC meets in early May 2016.
It is possible that the final number of emoji added to Unicode 9.0 will be more than these seventy-four, and could include a Dumpling Emoji, and maybe even some emojis for professional women, but we will have to wait and see what the UTC decides.
---
It's Not All About Emoji !
[If you've got this far, and think that the proposed Shark emoji is a metaphor for Unicode in 2016 then you may want to read my last year's rant on Emoji and Unicode, entitled an Optional Discourse on Emoji.]
The 7,227 non-emoji additions to Unicode 9.0 are all included in ISO/IEC 10646:2014 (4th ed.) Amendment 2, and are highlighted in this document (along with one currency sign, nine CJK unified ideographs, 36 emoji characters, and 5 emoji modifier characters which have already been included in Unicode 8.0). 109 of these characters belong to existing scripts, but 7,118 characters belong to four new scripts :
Inscription in the Marchen script on the library of the Yungdrung Bon Monastery in Dolanji (Himachal Pradesh)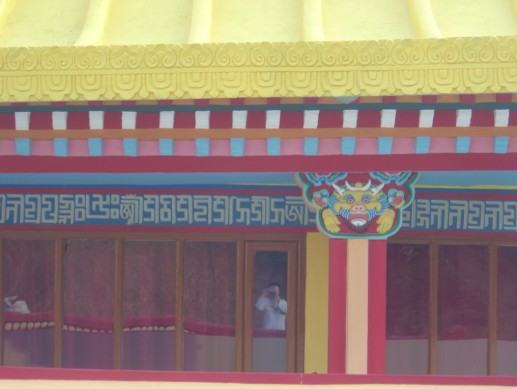 Photograph © Chris Hatchell
Of the 7,227 non-emoji additions, 7,178 characters are included in 9 new blocks, and 49 characters are added to existing blocks, as detailed in the two tables below. The code points and character names for all these characters are now fixed, and will not be changed. Draft official Unicode data files are available here, and I have made a plain text list of all the new characters to be added to Unicode 9.0 available here.
Postscript [2016-01-05]. To clarify, the 7,227 characters listed below will definitely be included in Unicode 9.0, and some or all of the 74 Emoji characters listed above will almost certainly also end up in Unicode 9.0, but it is also possible that some other characters in the Committe Draft for ISO/IEC 10646:2016 (5th ed.) (full draft is downloadable as N4446) will also be fast-tracked into Unicode 9.0. These may include 19 Japanese TV symbols required for ARIB STD-B62. It is not impossible that the UTC may even decide to fast-track the Adlam and/or Newa scripts into Unicode 9.0, even though there is no precedent for fast-tracking a script into a version of Unicode whilst it is still under ISO technical ballot, and such a move could potentially destabilize the relationship between the Unicode and ISO/IEC 10646 standards. At the present time I do not know for sure what the UTC will decide, but I will update this post when I have more information.
Characters Added to New Blocks
Block Name
Range
Characters / Source Documents
Cyrillic Extended-C
1C80..1C8F

9 letters used in early Church Slavonic (1C80..1C88).

---

Aleksandr Andreev, Yuri Shardt, and Nikita Simmons, "Proposal to Use Standardized Variation Sequences to Encode Church Slavonic Glyph Variants in Unicode" (2014-07-20) [L2/13-153]

Aleksandr Andreev, Yuri Shardt, and Nikita Simmons, "Proposal to Encode Additional Cyrillic Characters used in Early Church Slavonic Printed Books" (2014-08-20) [WG2 N4607 || L2/14-196]

Osage
104B0..104FF

72 letters for Osage: 36 uppercase letters (104B0..104D3) and 36 lowercase letters (104D8..104FB).

---

Michael Everson, Herman Mongrain Lookout, and Cameron Pratt, "Preliminary proposal to encode the Osage script in the UCS" (2014-02-20) [WG2 N4548 || L2/14-068]

Michael Everson, Herman Mongrain Lookout, and Cameron Pratt, "Proposal to encode Latin characters for Osage in the UCS" (2014-07-30) [WG2 N4587 || L2/14-175]

Michael Everson, Herman Mongrain Lookout, and Cameron Pratt, "Final proposal to encode the Osage script in the UCS" (2014-09-21) [WG2 N4619 || L2/14-214]

Mongolian Supplement
11660..1167F

13 head marks for Mongolian (11660..1166C).

---

Aaron Bell, Greg Eck, Andrew Glass, and Andrew West, "Encoding Mongolian head letters" (2014-01-17) [L2/14-030]

Aaron Bell, Greg Eck, Andrew Glass, and Andrew West, "Proposal to encode five Mongolian head marks" (2014-02-06) [WG2 N4542 || L2/14-067]

China, "Comments on N4542 Five Mongolian Head Marks" (2014-02-19) [WG2 N4547 || L2/14-081]

China, "A Letter to the Authors of N4542 (5 Birgas in Mongolian Block" (2014-09-23) [WG2 N4632 || L2/14-240]

Bhaiksuki
11C00..11C6F

97 characters for Bhaiksuki: 46 letters (11C00..11C08, 11C0A..11C2E), 12 vowel signs (11C2F..11C36, 11C38..11C3B), 5 other signs (11C3C..11C40), 2 dandas (11C41..11C42), a word separator (11C43), 2 gap fillers (11C44..11C45), 10 decimal digits (11C50..11C59), 18 numbers (11C5A..11C6B), and a hundreds unit mark (11C6C).

---

Anshuman Pandey and Dragomir Dimitrov, "Proposal to Encode the Bhaiksuki Script in ISO/IEC 10646" (2013-07-22) [WG2 N4469 || L2/13-167]

Anshuman Pandey and Dragomir Dimitrov, "Revised Proposal to Encode the Bhaiksuki Script in ISO/IEC 10646" (2013-10-27) [WG2 N4489 || L2/13-194]

Anshuman Pandey and Dragomir Dimitrov, "Revised Proposal to Encode the Bhaiksuki Script in ISO/IEC 10646" (2014-01-27) [L2/14-036]

Anshuman Pandey and Dragomir Dimitrov, "Final Proposal to Encode the Bhaiksuki Script in ISO/IEC 10646" (2014-04-23) [WG2 N4573 || L2/14-091]

Marchen
11C70..11CBF

68 characters for Marchen: 2 marks (11C70..11C71), 30 letters (11C72..11C8F), 29 subjoined letters (11C92..11CA7, 11CA9..11CAF), 5 vowel signs (11CB0..11CB4), and 2 other signs (11CB5..11CB6).

---

Andrew West, "Proposal to encode the Marchen script in the SMP of the UCS" (2011-04-30) [WG2 N4032 || L2/11-140]

Andrew West, "Final proposal to encode the Marchen script in the SMP of the UCS" (2013-10-22) [WG2 N4491 || L2/13-197]

Ideographic Symbols and Punctuation
16FE0..16FFF

1 iteration mark for Tangut (16FE0).

---

See under Tangut.

Tangut
17000..187FF

6,125 Tangut ideographs (17000..187EC) [characters are named algorithmically based on their code point, as TANGUT IDEOGRAPH-hhhhh].

---

Richard Cook (UC Berkeley Script Encoding Initiative), "Proposal to encode Tangut characters in UCS Plane 1" (2007-05-09) [WG2 N3297 || L2/07-143] [Multi Column Chart : WG2 N3297A || L2/07-144] [Single Column Chart: WG2 N3297B || L2/07-145]

Richard Cook (UC Berkeley Script Encoding Initiative), "Tangut Proposal Code Chart Update" (2007-07-24) [L2/07-229]

Richard Cook (UC Berkeley Script Encoding Initiative), "Tangut Background" (2007-09-01) [WG2 N3307 || L2/07-289]

China, "Response to UC Berkeley's proposals on Tangut" (2007-09-16) [WG2 N3338 || L2/07-301]

Richard Cook, "Expert feedback on Chinese NB input on WG2/N3297 Tangut Encoding Proposal" (2007-09-17) [WG2 N3343 || L2/07-302]

UK, "Comments on N3297: Proposal to encode Tangut characters in UCS Plane 1 and Charts" (2008-04-19) [WG2 N3448 || L2/08-175]

China and US, "Comments on N3297: Proposal to encode Tangut characters in UCS Plane 1 and charts" (2008-04-22) [WG2 N3467 || L2/08-187]

Richard Cook, [Five column chart] (2008-07-15 / 2010-04-16) [WG2 N3822 || L2/08-259]

Richard Cook, "Single-Column Tangut Code Chart (using Column G font)" (2008-09-03) [L2/08-336]

UK, "Review of Proposed Tangut Repertoire" (2008-09-01
(rev. 2008-09-07)) [WG2 N3496 || L2/08-337]

Michael Everson and Andrew West, "Expert Feedback on the proposed Tangut character set in PDAM 6.2" (2008-09-24) [WG2 N3498 || L2/08-341]

Richard Cook and Ken Lunde, "The UCS Tangut Repertory" (2008-10-10) [WG2 N3521 || L2/08-349]

China, "Response from Tangut scholars of China on the Tangut Unicode proposal" (2008-10-13) [N3539 || L2/08-376]

Erkki I. Kolehmainen, "Report from the Ad Hoc on Tangut" (2008-10-13) [N3541 || L2/08-377]

Michael Everson, Nathan Hill, Guillaume Jacques, Andrew West, Viacheslav Zaytsev, "Proposal for a revised Tangut character set for encoding in the SMP of the UCS" (2009-03-01) [WG2 N3577 || L2/09-095]

Michael Everson, Nathan Hill, Guillaume Jacques, Andrew West, Viacheslav Zaytsev, "Proposal for a revised Tangut character set for encoding in the SMP of the UCS" (2009-04-08) [WG2 N3577R || L2/09-115] [Appendix A: WG2 N3577R-A || L2/09-116] [Appendix B: WG2 N3577R-B || L2/09-117]

Deborah Anderson and Richard Cook, "Request for Tangut font and mappings from N3577 to Amendment 7 repertoire" (2009-03-04) [WG2 N3586]

Peter Constable, "Tangut Ad-Hoc Meeting Report" (2009-04-20) [WG2 N3629 || L2/09-169]

China, Ireland, UK, "Final proposal for encoding the Tangut script in the SMP of the UCS" (2010-04-05) [WG2 N3797 || L2/10-095] [Appendix A: WG2 N3797-A] [Appendix B: WG2 N3797-B]

Deborah Anderson and Richard Cook, "Comments on Tangut proposal N3797" (2010-04-16) [WG2 N3821 || L2/10-131]

Deborah Anderson, "Tangut Ad hoc report" (2010-04-21) [WG2 N3833 || L2/10-141]

UK, "Report on Tangut Encoding" (2011-05-22) [WG2 N4033 || L2/11-214] [Appendix A: WG2 N4033A || L2/11-214] [Appendix B: WG2 N4033B || L2/11-214]

Michael Everson and Andrew West, "Tangut chart to supplement N4033 'Report on Tangut Encoding'" (2011-05-26) [WG2 N4083 || L2/11-204]

Richard Cook and Deborah Anderson, Script Encoding Initiative, UC Berkeley, "Comments on Tangut report N4033" (2011‐06‐01) [WG2 N4094]

Andrew West, Viacheslav Zaytsev, Michael Everson, "Proposal to encode the Tangut script in the UCS" (2012-10-02) [WG2 N4325 || L2/12-313]

Michael Everson and Andrew West, "Code chart for Tangut ideographs and Tangut radicals" (2012-10-02) [WG2 N4327 || L2/12-315]

China, "Comments on N4325, 4326 and N4327 (Tangut)" (2012-10-20) [WG2 N4370]

China, "Explanation on the Re-facture of Tangut Fonts" (2013-06-10) [WG2 N4455]

Deborah Anderson, SEI, UC Berkeley, "Summary of Tangut meeting (Beijing, China)" (2013-12-10) [WG2 N4516 || L2/13-241]

Andrew West, Michael Everson, Han Xiaomang, Jia Changye, Jing Yongshi, Viacheslav Zaytsev, "Proposal to encode the Tangut script in the UCS" (2014-01-21) [WG2 N4522 || L2/14-023]

Andrew West, Michael Everson, Han Xiaomang, Jia Changye, Jing Yongshi, Viacheslav Zaytsev, "Code chart for the Tangut script" (2014-01-21) [WG2 N4525 || L2/14-021]

Andrew West, Viacheslav Zaytsev, Sun Bojun, Michael Everson, "Tangut glyph corrections" (2014-10-01) [WG2 N4588R2 || L2/14-209]

China, "Review of N4558R Tangut glyph corrections" (2014-09-29) [WG2 N4640]

Deborah Anderson, "Ad Hoc Reports for Tangut and Khitan Large Script" (2014-09-29) [WG2 N4642 || L2/14-246]

Andrew West, Viacheslav Zaytsev, Michael Everson, "Discussion of Tangut character L2008-4148" (2014-12-01) [WG2 N4650 || L2/14-301]

Andrew West, Michael Everson, Viacheslav Zaytsev, "Review of Tangut repertoire in DAM ballot" (2015-07-16) [WG2 N4667 || L2/15-175]

China, "Reply to WG2N4650 and WG2N4667 on Tangut" (2015-10-13) [WG2 N4684 || L2/15-279]

Tangut Components
18800..18AFF

755 Tangut radicals and character components (18800..18AF2).

---

Michael Everson and Andrew West, "Proposal to encode Tangut Radicals and CJK Strokes in the UCS" (2008-09-01) [WG2 N3495 || L2/08-335]

Richard Cook and Deborah Anderson, "Comments on the Tangut radicals and strokes proposal (N3495 = L2/08‐335)" (2008-10-29) [L2/08-399]

Andrew West, Viacheslav Zaytsev, Michael Everson, "Proposal to encode Tangut radicals in the UCS" (2012-10-02) [WG2 N4326 || L2/12-314]

Michael Everson and Andrew West, "Code chart for Tangut ideographs and Tangut radicals" (2012-10-02) [WG2 N4327 || L2/12-315]

Andrew West, Viacheslav Zaytsev, Sun Bojun, Michael Everson, "Proposal to encode Tangut radicals in the UCS" (2014-09-30) [WG2 N4636 || L2/14-228]

Glagolitic Supplement
1E000..1E02F

38 combining letters for Glagolitic (1E000..1E006, 1E008..1E018, 1E01B..1E021, 1E023..1E024, 1E026..1E02A).

---

Aleksandr Andreev, Heinz Miklas, and Yuri Shardt, "Proposal to Encode Combining Glagolitic Letters in Unicode" (2014-08-20) [WG2 N4608 || L2/14-087]

Ralph Cleminson and David Birnbaum, "Expert Feedback on L2/14-087 Proposal to Encode Additional Glagolitic Characters" (2014-04-27) [WG2 N4608 || L2/14-103]

Ralph Cleminson and David Birnbaum, "Additional Expert Feedback on L2/14‐087 Proposal to Encode Additional Glagolitic Characters" (2014-07-21) [WG2 N4608 || L2/14-165]
Leaf from a Tangut Buddhist manuscript (Great Perfection of Wisdom Sutra)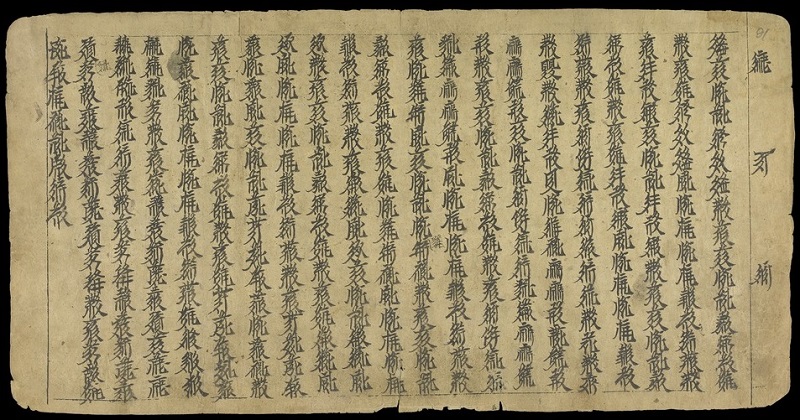 Characters Added to Existing Blocks
Block Name
Range
Characters / Source Documents
Arabic Extended-A
08A0..08FF

5 Arabic letters for Bravanese (08B6..08BA).

---

Hamid Banafunzi, Marghani Banafunzi, and Maxamed Nuur, "Proposal to encode five Arabic script characters for the Bravanese (Chimiini)" (2014-08-31) [L2/13-178]

Roozbeh Pournader, "Proposal to encode four Arabic characters for Bravanese" (2014-11-06) [WG2 N4498 || L2/13-223]

Roozbeh Pournader and Shervin Afshar, "Proposal to Encode Arabic Letter Teh with Small Teh Above for Bravanese" (2014-11-01) [L2/13-293]

---

3 Arabic letters for Warsh-based orthographies (08BB..08BD).

---

Lorna Evans (SIL International), "Supporting the Warsh orthography for Arabic script" (2014-04-29) [L2/14-104]

Lorna Evans (SIL International), "Proposal to encode Warsh‐based Arabic script characters" (2014-08-15) [WG2 N4597 || L2/14-211]

---

15 Quranic marks used in Pakistani printing (08D4..08E2).

---

Lateef Sagar Shaikh, "Proposal to encode Quranic marks used in Quran published in Pakistan" (2014-04-24) [L2/14-095]

Lateef Sagar Shaikh, "Proposal to encode Quranic Alternate Dammatan used in Quran published in Pakistan" (2014-04-25) [L2/14-096]

Roozbeh Pournader, "Proposal to encode fourteen Pakistani Quranic marks" (2014-07-27) [WG2 N4589 || L2/14-105]

Lateef Sagar Shaikh, "Proposal to encode Quranic mark Ar-Rub used in Quran published in Pakistan" (2014-08-11) [WG2 N4592 || L2/14-148]

Kannada
0C80..0CFF

1 spacing candrabindu sign (0C80).

---

Vinodh Rajan, "Proposal to encode Kannada Sign Spacing Candrabindu" (2014-07-18) [WG2 N4591 || L2/14-153]

Malayalam
0D00..0D7F

3 chillu letters (0D54..0D56).

---

Cibu Johny, "Proposal to encode MALAYALAM LETTER CHILLU LLL" (2013-05-15) [WG2 N4428 || L2/13-063]

Cibu Johny, "Proposal to encode MALAYALAM LETTER CHILLU M" (2014-01-08) [WG2 N4539 || L2/14-013]

Cibu Johny, "Proposal to encode MALAYALAM LETTER CHILLU Y" (2013-12-26) [WG2 N4539 || L2/14-017]

---

1 para sign (0D4F).

---

Cibu Johny, "Proposal to encode MALAYALAM SIGN PARA" (2014-01-16) [WG2 N4538 || L2/14-016]

---

10 characters for fractions (0D58..0D5E, 0D76..0D78).

---

Shriramana Sharma, "Proposal to encode Malayalam minor fractions" (2013-04-25) [WG2 N4429 || L2/13-051]

Miscellaneous Technical
2300..23FF

4 power button symbols (23FB..23FE).

---

Terence Eden, Joe Loughry, and Bruce Nordman, "Proposal to Include IEC Power Symbols" (2014-02-14) [WG2 N4567 || L2/14-009]

Michael Everson, "Towards a proposal to encode power symbols in the UCS" (2014-02-04) [WG2 N4535 || L2/14-059]

Supplemental Punctuation
2E00..2E7F

1 punctuation mark for Slavonic (2E43: DASH WITH LEFT UPTURN).

---

Aleksandr Andreev, Yuri Shardt, and Nikita Simmons, "Proposal to Encode a Slavonic Punctuation Mark in Unicode" (2014-02-04) [WG2 N4534 || L2/13-238]

---

1 suspension mark for Byzantine Greek (2E44: DOUBLE SUSPENSION MARK).

---

Dumbarton Oaks (Joel Kalvesmaki), "Proposal to encode GREEK BYZANTINE DOUBLE SUSPENSION MARK" (2014-07-18) [WG2 N4595 || L2/14-157]

Latin Extended-D
A720..A7FF

1 letter for Unifon (A7AE: LATIN CAPITAL LETTER SMALL CAPITAL I).

---

Michael Everson, "Proposal to encode "Unifon" and other characters in the UCS" (2012-04-29) [WG2 N4262 || L2/12-138]

Michael Everson, "Revised proposal to encode Unifon characters in the UCS" (2014-02-24) [WG2 N4549 || L2/14-070]

Saurashtra
A880..A8DF

1 candrabindu sign (A8C5).

---

Vinodh Rajan, "Proposal to encode Saurashtra Sign Candrabindu" (2014-08-07) [WG2 N4590 || L2/14-163]

Ancient Greek Numbers
10140..1018F

2 signs for ancient Greek (1018D..1018E).

---

Dumbarton Oaks (Joel Kalvesmaki), "Proposal to encode GREEK BYZANTINE INDICTION SIGN" (2014-07-18) [WG2 N4596 || L2/14-156]

Dumbarton Oaks (Joel Kalvesmaki), "Proposal to encode GREEK BYZANTINE NOMISMA SIGN" (2014-07-18) [WG2 N4594 || L2/14-158]

Khojki
11200..1124F

1 sukun sign for Arabic transliteration in the Khojki script (1123E).

---

Anshuman Pandey, "Proposal to Encode the Khojki Sign SUKUN in ISO/IEC 10646" (2014-05-05) [WG2 N4575 || L2/14-133]
The author in front of a Tangut Buddhist inscription on the Cloud Platform at Juyong Pass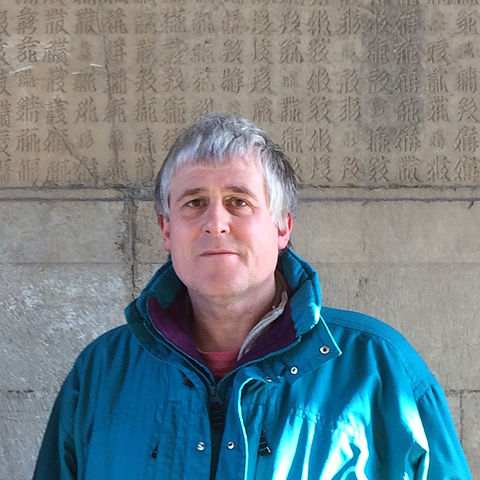 Photograph by Michael Everson (CC BY-SA 3.0)
---
Previous Posts on Unicode Versions